Global education is a mental development program that seeks to improve global human development based on the understanding of global dynamics, through the various sectors of human development delivery. In formal education, as a mode of human development delivery, it is integrated into formal educational programs, as an advanced program where global dimensions to local problems are appreciated through interconnectivity. Its first phase began as an undertaking to restructure education and society in the 1960s and 1970s, through the initiatives of educationalists, NGOs and intergovernmental organizations. The program evolves with the internet, and is in its virtual interconnectivity phase, through social media and other global public spheres. This global approach to mental development, seeks to fix the failing curriculum-based global education program that is: stuck in limited subject knowledge, based on theories that have failed the world (ref. Climate change);hinged on memorization without visual exposure to knowledge development resources and global culture, limited by access to human development resources. Instead, the program seeks to improve the global mental resources pool through the appreciation of global dynamics and local perspectives on issues. This is through alternative motivations for global human development, and alternative global futures hinged on interconnectivity
In Australia, it is perceived to enable young people to participate in shaping a better, shared future for the world. It emphasizes the unity and interdependence of human society, developing a sense of self and appreciation of cultural diversity, affirmation of social justice and human rights, as well as building peace and actions for a sustainable future at different times and places. This approach is also believed to promote positive values and prods students to take responsibility for their actions and see themselves as global citizens who can contribute to a more peaceful, just and sustainable world.
United Kingdom:
It is not a subject but a dimension that runs through the curriculum, an extra filter to help children make sense of all the information and opinions the world throws at them. It combines methodology – active and experiential discussion-based activities, a caring, co-operative and open outlook on the classroom experience, and core concerns- finding out about all the world's cultures and groups, about the causes of poverty and inequality and about the environment.
It is a way of approaching everything being taught and how it is taught. It broadens horizons and encourages exploration of all subjects from a global perspective.
Network of Young Europeans:
A creative approach to bring about change in society.
An active learning process based on the universal values of tolerance, solidarity, equality, justice, inclusion, co-operation and non-violence.
It begins with raising awareness of global challenges and creates a deeper understanding of the complex underlying issues thereby changing people's attitudes and encourages them to reflect on their own role in the world.
Tokyo Global Engineering Corporation:
The application of currently accepted scientific principles to the design of projects that cannot be implemented until the emergence of a global state. An example is an updated version of the Cosmopolitan Railway, using a vactrain instead of rail
In the United States
he National Education Association (NEA) recognizes Global Education to be a goal that educators strive to succeed in the classroom. The American association supports study abroad trips and teaching overseas for teachers to get a first-hand experience of different cultures.
Universities in the United States are also expanding their study abroad programs to enhance greater interconnectedness and global economic interdependence. The Institute of International Education (IIE) is researching effective ways that higher education in the United States can grow and create quality study abroad programs within the curriculum.
Many K-12 schools within the United States have adapted a Global Education Framework that was created for statewide implementation. Within this framework consist of six essential steps for a successful global education curriculum within each school:
Global Competency Standards for Students and Teachers
Effective and Scalable Teacher Supports, Resources, and Tools for infusing classroom with global knowledge and skills
A New Approach to Language Instruction that includes statewide dual language/immersion plan beginning in elementary school
Whole-School Models that include internationally-themes schools, transformation models for low-performing schools, and regional duel language/immersion schools
Networking and Recognizing Districts, Schools, and Educators to drive implementation and innovation
Global Experiences for Students and Educators including teacher exchange, educational travel, virtual exchange, and global academic competitions
Technology is a key provider in learning about globalization and participating in the global community. Technology can be used in the classroom to communicate around the world, establish global relationships, learn more about global current events, and developing global research. The advancements of technology will have a positive impact of global education in primary schools and higher education schools.
Service learning or local volunteer service work are included in conceptualized global citizenship programs. This approach is criticized because global relations are dramatically split into rich and poor, or oppressor and oppressed, respectively. Experiences of oppression are more complex than experiences of oppressing. Global citizenship education includes connecting nearby and worldwide issues and points of view and may incorporate such themes as human rights, social equity, and citizenship instruction, economic improvement, and globalization. Service learning can carry the possibility to recreate social disparities and advance, instead of dissipate, stereotypes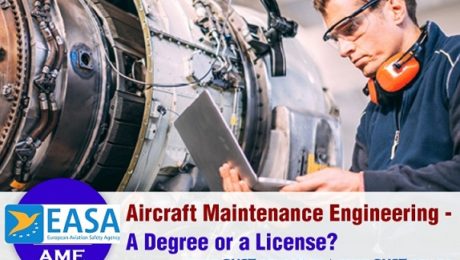 As a kid, everyone is fascinated by looking at an airplane. Moreover, some even decide to become a pilot, but not everyone who loves aircraft wants to become a pilot. Some long to become a doctor of aircraft, who is known as Aircraft Maintenance Engineer. Some want to become aircraft doctors that are aircraft maintenance engineering. Aircraft Maintenance Engineering is a degree as well as a licensed course.
License Course : Aircraft Maintenance Engineering (EASA)
Degree Course: BSc in Aircraft Maintenance Engineering 
Other Degree Course related to Aviation Engineering:
BSc in Aeronautics Engineering 
BSc in Mechanical Engineering 
BSc in Electrical Engineering 
BSc in Mechatronics Engineering
BSc in Industrial Engineering
BSc in Aircraft Maintenance Engineering 
BSc in AME is offered by GUST. This is a 3-year degree course. In this course, the students will get the knowledge about aircraft and its parts such as engine, landing gear, instrumental system, fuselage, electrical system, radio, and navigation system, and many more. However, at the GUST, BSc in Mechanical Engineering, Aeronautics Engineering, Electrical Engineering, Mechatronics Engineering and/or Industrial Engineering programs at GUST will do the bridging phase to qualify graduates to get AME (EASA) Licenses with minimum time & costs. 
Aircraft Maintenance Engineering License (EASA)
AME License (EASA) course is related to the maintenance and repair of aircraft. The candidate requires a lot of passion and skills to do the AME EASA Course. EASA is the European Aviation Safety Agency that deals with the rules and regulation of civil aviation. Aircraft Maintenance Engineer allows to repairs, maintain, the solve problem, conduct inspections, and make upgrades to aircraft. No aircraft can take off without approval from a licensed Aircraft Maintenance Engineer.
Aircraft Maintenance Engineer has to ensure the airworthy condition of an aircraft. AME has excellent career opportunities ahead as aircraft passengers are rising very frequently. This is the phenomenon time for the student who desires to make their careers in aviation.
After clearing the modules and practical training, the license will be issued by EASA and then the candidate can work in the private or government aviation sector in Europe and as well as Abroad.
Eligibility Of Licensed Course:
Candidates must have qualified for their 12th board examination with Physics, Chemistry, and Mathematics (PCM) in any board for AME
The applicants must have qualified for their 10th examination with any board for AME (EASA).
Candidates must have secured a minimum of 45% marks in their 12th board examination.
The age of the candidate should be between 16 to 28.
Candidates must not have any physical disability.
The applicants must not have color blindness.
Aircraft Maintenance Engineering Course Stream
Aircraft Maintenance Engineering course stream classified in the following categories:-
A License:- A license category is further classified in the following categories which are as follows:-
A1 License:- A1 license allows maintenance, repair, and solve the simple defects of an aeroplane with the jet engine.
A2 License:- A2 license allows maintenance, repair, and troubleshoot of the simple defects of an aeroplane with the piston engine.
A3 License:- A3 license certifies the maintenance, repair, and solve the simple defects of a helicopter with the jet engine.
A4 License:- A4 license certify the maintenance, rectify, and troubleshoot the simple defects of a helicopter with the piston engine.
B1 License:- B1 licensed AME has to rectify and solve the issues regarding the mechanical parts of an aircraft.
The subcategories of B1 license is as follows:-
B1.1 License:- B1.1 licensed AME has to certify the mechanical parts of an aeroplane with the jet engine. The mechanical parts can be engine, fuselage, landing gear, etc.
B1.2 License:- B1.2 licensed AME has to maintain, repair, and solve the issues of an aeroplane with the piston engine.
B1.3 License:- B1.3 license holder has to maintain, repair, and troubleshoot the issue of helicopter with the jet engine.
B1.4 License:- B1.4 license holder has to maintain, repair, and solve the problems occurs in a helicopter with the piston engine.
B2 license:- B2 license commonly known as "avionics". This license holder allows to maintain, repair, and troubleshooting the issues related to the electronic parts of an aircraft.
The subcategories of B2 license is as follows:-
Electrical system
Radio and Navigation system
Instrumental system
Aircraft Maintenance Engineering Career Opportunities
Aircraft Maintenance Engineering AME career opportunities in the aviation sector are very high . It is the dream time for the students who desire to build their career in aviation sector.
Many airlines have ordered new aircraft which can reflect the rising growth in aviation sector. Apart from this Boeing and Airbus are setting up their MRO worldwide which builds thousands of jobs for Aircraft Maintenance Engineering.
The AME Career Opportunities are at the following places:-
Airlines:- Airlines are company that provide air transport for the passenger's to travel. Before an aircraft fly, a Licensed Aircraft Maintenance Engineer has to analyze and solve the problems of aircrafts. After signing Flight Releasing Certificate (FRC) an aircraft can fly.
Maintenance, Repair and Overhauls (MRO) industries:- MRO companies are those companies which specialize in performing maintenance actions on aircraft and their components such as jet engines, landing gears, etc. To maintain the actions licensed Aircraft Maintenance Engineer are required.
Aircraft Manufacturing Companies:- Aircraft Manufacturing Companies deals in the manufacturing of aircrafts such as Boeing, Airbus, etc. For maintaining and operating engines, electronics system etc Aircraft Maintenance Engineer are hired.
Aircraft Part Manufacturing Companies:- Aircraft are made up of numerous parts. To manufacture those parts Aircraft Part Manufacturing Companies have builds. Aircraft Maintenance Engineer can analyze those parts and help them to build better one.
Aircraft Operation Organizations:- EASA, ICAO etc are the Aircraft Operation Organization. There organization deals with safety and security of civil aviation. When it's about Safety in aircraft, Aircraft Maintenance Engineer is the first name that came out.
Aviation Training Centers- There are Aircraft Maintenance Engineer who tells other candidate about the Aircraft Maintenance Engineering and its scope.
Flying Clubs:- A flying club is an organization that provides its members with affordable access to aircraft. That aircraft need to be maintenance which is done by licensed Aircraft Maintenance Engineers.
Civil Defense Forces:- There are many aircrafts which defense use for various purposes to protect the country. Defense is also maintenance by licensed Aircraft Maintenance Engineer.
And any place where an aircraft is used in Civil:- Wherever aircrafts are used they require to be maintained by authorized Aircraft Maintenance Engineer.
Salary of An Aircraft Maintenance Engineer
In AME course there will be practical training in the flying environment. When the candidate undergoes practical training there will stipend provided to them from USD 4000 to 5000 per month. After training of 2 years and clearing the modules the AME license will be issued to the candidates from EASA. The salary package of the candidate will be high after achieving the AME License. According to the payscale, the average salary of an AME is USD $75,000 per year. AME is the hottest career with responsibility of safety and security of Aircraft and its passengers. Not only salary even this job earns a lot of respect. The salary of AME is extraordinary worldwide.
If the candidate is interested in Bachelor Degree in Engineering and AME License (EASA) in one single courses, then he/ she must immediately Contact Us and fill the application form.
What is the worth of the AME EASA License?
The AME EASA license is worthy as the EASA is the European Aviation Safety Agency so the standard of studies on campus will be as per the EASA which is beneficial for the career of the student to get AME EASA license.
The training of EASA will be held at the EASA approved organization which comprises of great worth in itself. It is more comfortable for the students to build their career abroad as the training will be from EASA approved organization. EASA approved organization will be provide them the training as per their standard.
A part from the career the salary package for the student who have EASA license will be high. This is the dream job for the students to earn a great salary with reputation and dignity foreign country.