Graduation Ceremony in Lubumbashi-DRC, Central Africa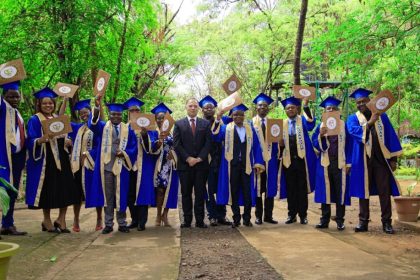 2nd International Professional Graduation Ceremony held in the Democratic Republic of the Congo (DRC) Central Africa
The Global University of Science & Technology (GUST), headed by Prof. Dr. Mohamed G. Kafafy, celebrated the professional graduation ceremony of the 2nd new batch for a group of  executive Managers from esteemed public & private organizations has taken place in Lubumbashi, DRC Central Africa.
The graduates were students in professional education & certifications for HR Management professional program in the Lubumbashi City. This program conducted to award the International Professional Certifications by HR Management Institute (HRMI) and Professional Diplomas by GUST at the end of the program after completion the examinations successfully.
The HRMI is the world leading professional organization and official certifying body for the management profession. It is a United States 501(c) international professional organization operating globally from 2008, complying with the requirements of ISO 17024 accreditation standards set forth by the International Organization of Standardization for personnel certification bodies, further validation of the HRMI's status as the most globally transferable credentials. It is affiliated with the GUST. The Global University of Science & Technology (GUST) as a federal body to coordinate and integrate resources and ensure the implementation of the Education for Employment (E4E) and multidisciplinary Learning for Leadership (L4L) System programs.
From participants in feedback surveys describe their satisfaction with professional learning sessions as "high informative and engaging" and "Tailored to our service and how to manage the HR efficiently & effectively to achieve maximum productivity matching with organizations strategic goals & competitive advantage for survive and thrive in rapidly changing world ".