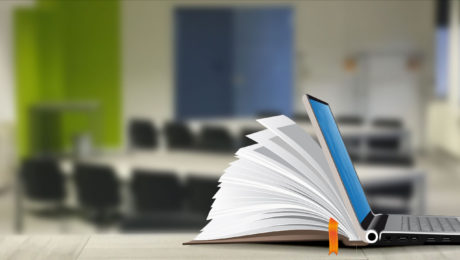 o fight the spread of coronavirus and maintain healthy social-distancing, schools across the country have temporarily closed and quickly transitioned from on-campus, face-to-face learning to distance learning. In the last decade, colleges and universities have led the charge incorporating online, distance education into their programming, changing how they plan and design their campus. HMC Architects' Senior Education Facilities Planners Sandy Kate and Sheryl Sterry discuss what this temporary transition in response to the current COVID-19 pandemic could mean for the future of higher education planning and design.
Before the current pandemic, what were some trends you were seeing in colleges embracing distance education?
According to California Community College (CCC) Datamart, over the last six years, statewide full-time equivalent student (FTES) enrollment in distance learning classes increased from 11.4% to 17.7% of total FTES. Last fall, the CCC system opened Calbright College, a virtual college with plans to accept 400 students in its first year. The College is the 115th college in the system and represents California's commitment to be a leader in distance learning.
Faculty at our client colleges, such as Mt. San Antonio College and Chaffey College, who once hesitated to adopt distance learning due to concerns about lower student success rates, are now planning to move forward with more online classes. More and more colleges are evaluating what courses of study work best for distance learning and providing more professional development for faculty to increase online course success rates.
The current rapid and forced adoption of online teaching and learning will likely lead to permanent changes, generating data that may help to accelerate and improve online learning platforms and pedagogies.
How do distance education facilities affect the design and/or planning of a college campus?
Planning with distance education in mind requires us to re-consider how campus buildings are being used and design accordingly. Distance education facilities house on-campus testing and support for instructors to develop the necessary professional skills. A center for distance education will not need classrooms but may need space for students to come take a test, office space for instructors, or space to sit and take their online course.
Some instructors are using simple camera and mic setups to record lectures in their classrooms. Although we have not yet heard a strong desire from our community college clients, in the future, more classrooms could be outfitted with lecture capture systems that would allow classes to be simultaneously taught both online and face-to-face.
What will distance education mean for the future of higher education architecture and planning?
With increasing adoption of distance education, we foresee that college campuses will become centers for experiential and collaborative learning and student support. The adoption of distance education could reduce the need for lecture space on college campuses, which dovetails well with the need to grow other types of spaces.
Traditional campus spaces could shift from lectures in classrooms towards more hands-on learning laboratory spaces. In fact, we are also seeing a shift toward integrated lecture and laboratory activities within the same class sessions—a strategy that helps students to retain newly learned information and skills. This shift calls for integrating lecture space within the laboratory, in flexible open spaces that can be setup for a lecture using mobile tables and chairs. Using the same set of furniture, the same area can be quickly reconfigured and equipped for lab or project activities.
Colleges are also embracing a higher level of academic support and student services, and campuses are well situated to grow their tutoring, study, and student services spaces and provide these services both online and in-person.
Changes in how students use a campus may also affect the need for parking. Currently, parking capacity is planned to accommodate the busiest periods of the week. Potentially, the adoption of distance education could lessen parking demand and distribute it more evenly across the day and week. Which could have positive consequences for campus planning by freeing land used for parking for other uses such as outdoor gathering spaces, dining halls, or laboratories.
How do you plan for a program (Distance Education) that requires little to no space?
While students may take a course online, they may physically be taking it on-campus in a non-class setting such as the library or even outdoors. It is important to create on-campus spaces that allow for independent online coursework. A campus might also need more testing centers to accommodate the course testing schedule.